Dr. Badri (Bud) Rickhi
MB, BS, FRCP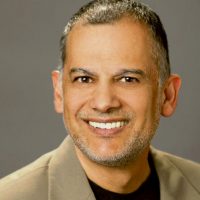 In 2009, the jury once again split the Prize. Two practitioners recognized as "agents of change" in the revolutionary movement toward an integrative approach to clinical medical practice were the recipients of the 2009 Dr. Rogers Prize. The Prizes were presented by Geoff Rogers, son of Dr. Rogers, at a gala award dinner held at the Fairmont Waterfront Hotel in downtown Vancouver September 25, 2009.
Dr. Rickhi was described as throwing away a promising psychiatric career in the late 1980's when he trained in Traditional Chinese Medicine, Ayurvedic, Japanese and Tibetan medicine. He established the Research Centre for Alternative Medicine, now the Canadian Institute for Natural and Integrative Medicine (CINIM), and played a key role in establishing the Integrative Health Institute at Mount Royal College. Dr. Rickhi has been very successful in alleviating depression with his integrative approach and most recently has focused on teen depression.
2009 Colloquium
The first ever Dr. Rogers Prize Colloquium was held earlier in the day at the Wosk Centre for Dialogue, attended by researchers, practitioners, advocates, educators, students and consumers from across Canada. Fortunately, the overflow crowd had been anticipated and the proceedings were televised into another room within the Wosk Centre. Top Canadian and international specialists were moderated by Maria LeRose and shared their ideas on evidence and integration. Drs. Steven Aung, James Gordon, Joseph Pizzorno and Marja Verhoef enlightened the audience with their pioneering perspectives and hard-won experience. The findings were summarized by Barb Findlay and published in Connections magazine.
2009 Media Releases
2009 Media Coverage