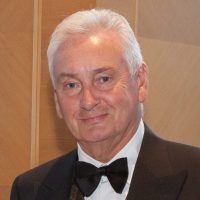 Dr. Simon Sutcliffe (Canada)
Dr. Sutcliffe graduated with honours from St Bartholomew's Hospital, London, England, in 1970. Following training positions at St Bartholomew's, Hammersmith (Royal Postgraduate Medical School) and Oxford in the areas of internal medicineand medical oncology, he completed his Doctoral thesis at London University (1979) after periods of research study at the Albert Einstein College of Medicine (New York) and Tulane University (New Orleans). He obtained his Canadian Fellowship in Radiation Oncology in 1981, his UK Fellowship of the Royal College of Physicians in 1989 and the Fellowship of the Royal College of Radiologists in 1997.
Dr. Sutcliffe was a staff oncologist and member of the senior scientific staff of the Ontario Cancer Institute/Princess Margaret Hospital (OCI/PMH) 1982-1989, the Vice President Oncology Programs 1989-1993, and the President and CEO of OCI/PMH 1994-1996. From 1996 to 2000, Dr. Sutcliffe was Vice President at the British Columbia Cancer Agency with responsibility for the Vancouver Cancer Centre, academic development in oncology with the University of British Columbia and leadership of the Provincial Tumour Groups. Dr. Sutcliffe was the President of the BC Cancer Agency from October 2000 to the end of 2008. Dr. Sutcliffe is the Vice Chair of the Canadian Partnership Against Cancer, which is an independent organization funded by the federal government to accelerate action on cancer control for all Canadians.
In November 2006 Dr. Sutcliffe was appointed Vice Chairman, Canadian Partnership Against Cancer, with responsibility for implementing the objectives of the Canadian Strategy for Cancer Control. Prior to this appointment, Dr. Sutcliffe was the inaugural Chair of the Governing Council of the Canadian Strategy for Cancer Control (CSCC), a joint initiative undertaken by Canadian Cancer Society/National Cancer Institute Canada (CCS/NCIC), Canadian Association of Provincial Cancer Agencies (CAPCA) and Health Canada. In 1999/2000 Dr. Sutcliffe was Chair of the Treatment Working Group, a sub-group of the CSCC. Dr. Sutcliffe is the Past Chair of the CCS/NCIC Joint Advisory Committee on Cancer Control, the CCS/NCIC National Medical Advisory Committee, and past member of National Cancer Institute of Canada Board of Directors. Dr. Sutcliffe has also served as a member on a number of NCIC/CCS Committees: Clinical Trials Group, Working Groups on Economic Analysis of Clinical Trials; Cancer Information Services; and Synoptic Reporting in Pathology. Currently Dr. Sutcliffe serves on a number of public and private sector boards including Michael Smith Foundation for Health Research and Genome BC.
Dr. Sutcliffe has published extensively in the areas of radiation and medical oncology as applied to the treatment of lymphoma, leukemia and endocrine malignancies, fertility and gonadal function in cancer patients, and cellular immuno-deficiency and immuno-modulation in cancer.
Dr. Sutcliffe was presented with the Queen's Golden Jubilee Award by the National Cancer Institute of Canada/Canadian Cancer Society in recognition of his many years of service at the national level.
Dr. Sutcliffe has been a long time supporter of CAM as an adjunct to cancer care. He was founding Director and Board member of Wellspring (Cancer Support program) in Ontario, and retains an emeritus Board appointment. In addition he has served on the Board of Directors for Hope House, Tzu Chi Institute and InspireHealth in British Columbia.