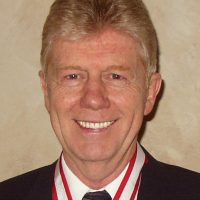 In a surprising turn of events, the 2007 Dr. Rogers Prize jury split the inaugural Dr. Rogers Prize for Excellence in Complementary and Alternative Medicine between two recipients. Dr. Alastair Cunningham of Toronto, Ontario and Dr. Abram Hoffer of Victoria, BC were selected to receive the honour and shared the $250,000 Dr. Rogers Prize. The presentations were made at a gala award ceremony on Thursday, November 1, 2007 at the Marriott Vancouver Pinnacle Downtown.
Dr. Cunningham's pioneering work was the important role of the mind and its effect on the immune system, particularly in cancer patients. In the face of extreme skepticism, he started teaching psychological and spiritual approaches to patients and documenting the effects. The first class was in his living room. 25 years later, his program known as The Healing Journey or Wellspring, has helped thousands of cancer patients and their families in Canada and around the world.
Many thanks to the 2007 Advisors and Jurors.