Dr. Rogers Prize 2017 Gala Award Dinner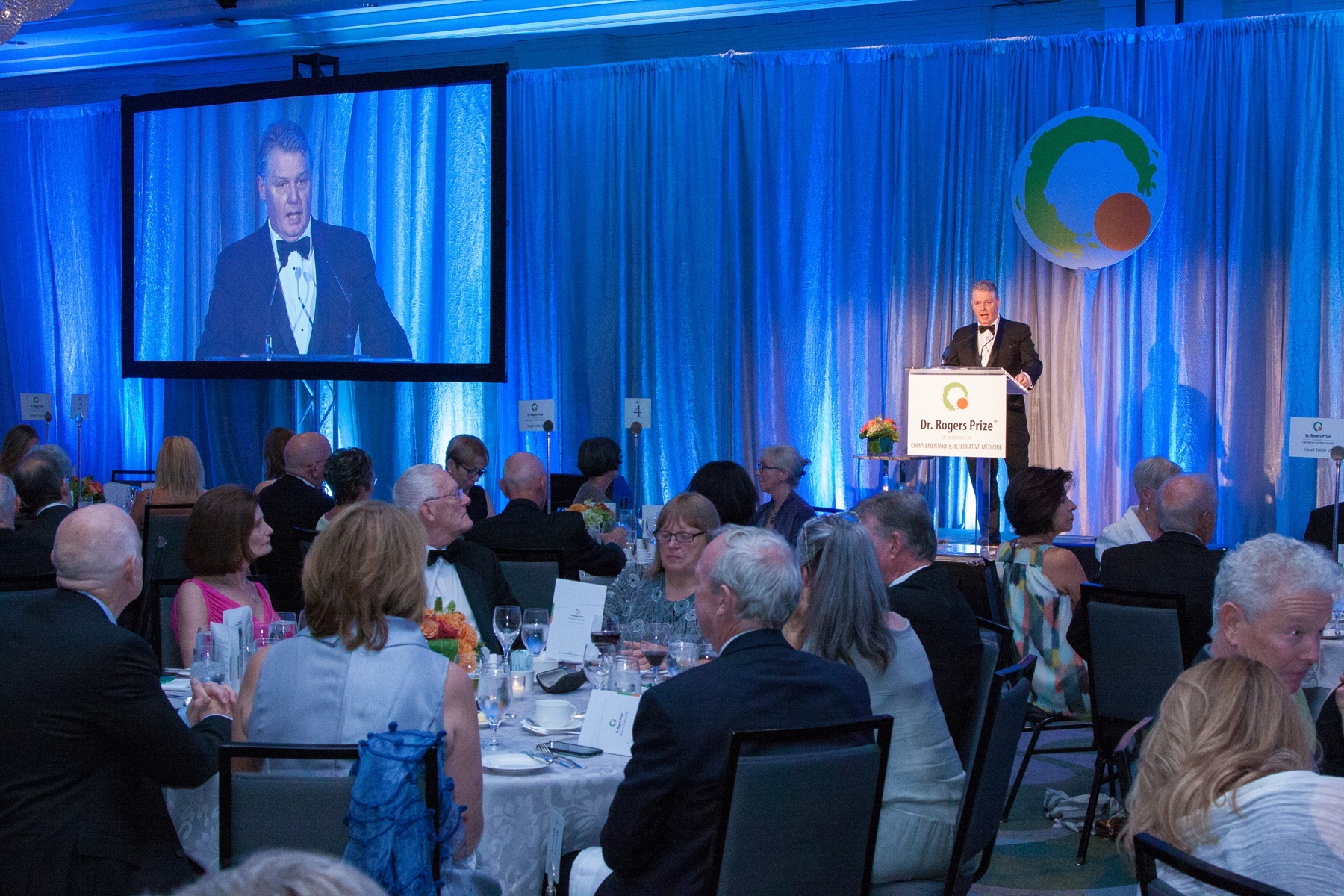 The 2017 Dr. Rogers Prize gala award dinner took place on Thursday, September 14th where Dr. Dugald Seely, founder and executive director of the Ottawa Integrative Cancer Centre was awarded the 2017 Prize. The $250,000 Prize highlights the important contributions of Complementary and Alternative Medicine to healthcare by rewarding those individuals who have made significant contributions to the field. Dr. Seely is a leader in the development of the field of integrative and naturopathic oncology, and recently launched the largest integrative naturopathic cancer care clinical trial ever conducted in North America. Learn more about the 2017 winner of the Dr. Rogers Prize.
The evening's keynote was presented by Dr. Helene Langevin, Director of the Osher Centre for Integrative Medicine (Harvard Medical School) who detailed her research journey to much applause.  Dr. Langevin received an MD degree from McGill University, followed by a post doctoral research fellowship in Neurochemistry at the MRC Neurochemical Pharmacology Unit in Cambridge, England, residency in Internal Medicine and fellowship in Endocrinology and Metabolism at Johns Hopkins Hospital. She has been Principal Investigator of seven NIH-funded studies investigating the role of connective tissue in musculoskeletal pain and the mechanisms of acupuncture, manual and movement based therapies.
Dr. Rogers Prize Juror Dr. Joseph Pizzorno delivered a toast to ten years of the Dr. Rogers Prize to a standing ovation.
The Dr. Rogers Prize is awarded biennially at an Award Gala Dinner in Vancouver, BC. Past keynote speakers have included  Dr. Jeffrey Bland, author of The Disease Delusion; Dr. Irving Kirsch, author of The Emperor's New Drugs; and Dr. Wayne Jonas, former CEO and President of the Samueli Institute.
To be kept informed of upcoming Dr. Rogers Prize events, please join our mailing list.